South Indian Cuisine is vast as it comprises five states, and in each region, the breakfast will be unique and delicious. Whether, it is crispy vada from Tamil Nadu, or spicy chutney from Andhra Pradesh, popular appam from Kerala, or masala dosa from Karnataka, or steam pancake from Telengana, people love to enjoy all flavors of dishes.
The South Indian breakfast will be comforting, wholesome, and loaded. It will take only a few minutes to make the breakfast but the entire dish will be full of nutritious and tasty.
So, here is the popular and delicious South Indian breakfast recipes that you will love to prepare at your home and will be healthy and delicious.
Top 5 South Indian Breakfast Recipes:
Idli
When it comes to the South Indian breakfast, the first thing that strikes everyone's mind is idli, which is not only a popular breakfast but also healthy.
1 cup of regular rice and 2 cups of idli rice
½ cup of urad dal
¼ cup of poha
¼ tbsp. of fenugreek seeds
1 tbsp of rock salt
Oil as required
For batter:
In a bowl, soak both the rice and poha in water for 4 to 5 hours
In another bowl, soak urad dal and fenugreek seeds in water for 4 to 5 hours
Then drain the water from urad dal, grind it well and add water as required. Make it into a smooth and fluffy batter
Remove the urad batter and kept it aside
Then grind the rice as per the same instructions
Mix both the batter in a large bowl and add salt
Let the batter be ferment for 8 to 9 hours
For idli:
Take idli mold and grease oil
Pour the batter into the mold and place it in the steamer or pressure cooker
Steam for 12 to 15 minutes
Serve it hot with chutney
Upma
Upma is a flavorful dish, and it consists of fibre, vitamins, and healthy fats. It is south indian healthy meal as it is low in calories and cholesterol.
200gm of semolina
1 diced potato
1 diced tomato
½ tbsp. of mustard seeds
5 curry leaves
½ tbsp. of chopped ginger
Vegetable oil
½ tbsp. of urad dal
250ml of water
1 chopped onion
1 chopped capsicum
1 tbsp of salt
½ tbsp. of cumin seeds
4 finely chopped green chili
2 red chilies
½ tbsp. of chana dal
1 diced carrot
In a pan, add semolina and roast it in medium flame till it turns golden brown
Then take it out, and then add oil or ghee over moderate flame. Add mustard seeds, cumin seeds, green chili, ginger, red chili, channa dal, and urad dal
After few minutes, add curry leaves, onion, potato, and sauté it well
Once the onion turns a little golden then add tomatoes, capsicum, and carrot
Add water and close the lid
Once the veggies are cooked add the roasted semolina
Add it little by little, and stir continuously on a medium flame
Serve it with chutney
Khara Pongal
Pongal gives birth to the traditional South Indian breakfast, and it is the most delicious breakfast. When you eat it with coconut chutney and sambar, you will forget the entire world as it tastes so good.
1 cup rice
2 tbsp ghee
1 pinch asafetida
1 handful of curry leaves
5 cashews
Water as required
½ tbsp. turmeric
½ tbsp. pepper
½ tbsp. cumin seeds
2 tbsp ginger
1 cup moong dal
Salt as required
Take a pan and add moong dal, roast until it turns golden
Then in a deep pan, add moong dal and rice and pour water till it gets submerged
Add salt and wait until the rice gets cooked well
In another pan, add ghee and cashews, once it turns golden take it out
Then add ginger, cumin seeds, ginger paste, curry leaves, black pepper, turmeric, and asafetida
Then add the dal and rice mixture
Let it be cook on a medium flame for 3 to 4 minutes
Top the Pongal with cashew and then serve it with chutney, sambar, and vada
Note: If you want white Pongal, then you don't have to add turmeric.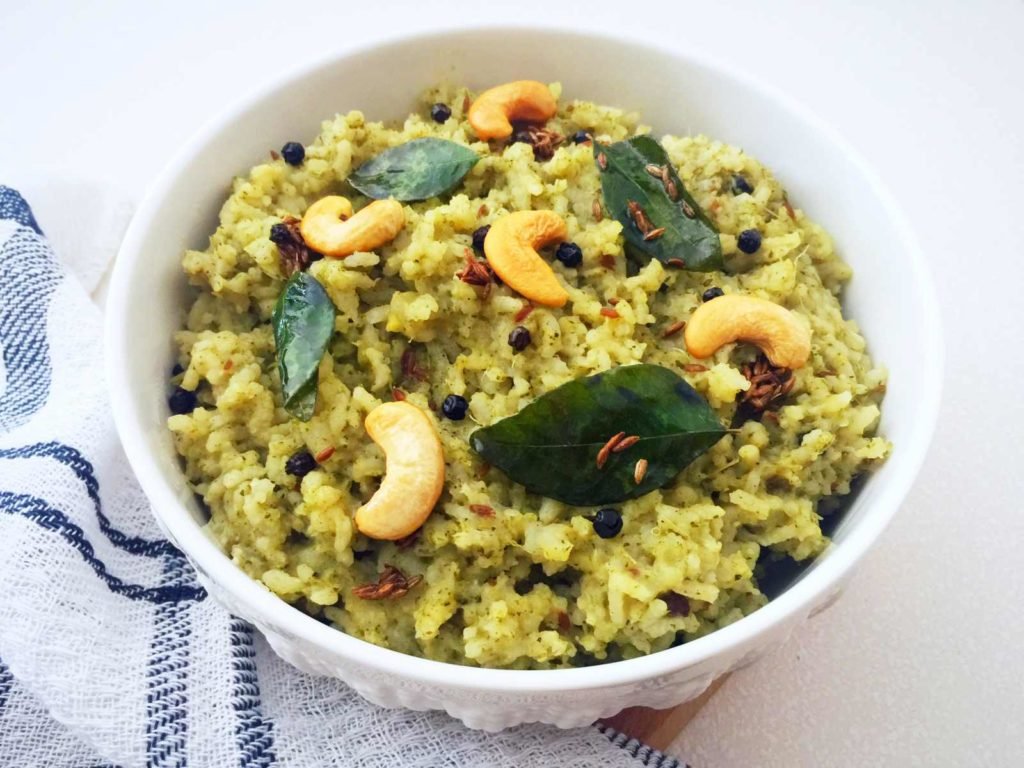 Appam
To make appam, you will need only a handful of ingredients, and the appam will be soft and thick in the centre and paper-like in the exterior.
1 cup rice
2 cups desiccated coconut
3 tbsp of sugar
½ tbsp. of yeast
Salt
Soak rice and desiccated coconut in a bowl for 6 hours
Once the rice turns soft, then grind it well for 7 minutes by adding salt and sugar
Add yeast and blend it for 2 minutes
The batter needs to stay aside for few hours till it gets a rise from the bowl
Heat a pan and pour a ladle of batter in the middle
Twist the pan to get the desired shape
Close the lid and let it cook for 3 minutes till the side gets golden
Take it out, and serve it with coconut milk
Uttapam
Uttapam is a light and scrummy South Indian breakfast, and also it is rich in taste so you won't stop it with one but asking for more.
360gms of rice
90gms of Bengal gram
½ tbsp. of fenugreek seeds
2 tbsp of salt
Vegetable oil
Take the rice, gram, and fenugreek seeds in a bowl and pour water. Soak it for 5 to 6 hours
After that, grind it fine. Then add salt and water to bring the water into a better consistency and leave it for 5 to 6 hours so that it will get ferment properly
If it is fermented properly, then the batter will rise above the bowl
Take a pan and then spread ¼ ladle of batter in the pan, drizzle some oil
Sprinkle some chopped onions, tomatoes, chilies, and coriander over the batter
Once it is cooked well on one side then flip it to the other side
Both sides should turn in golden, then serve it hot with chutney